Become Insect Misting Systems Dealers in Houston
Do you want to make more money now?
Whether you are looking to expand your business or start from scratch, then it's time to add MOSQUITO-PROTM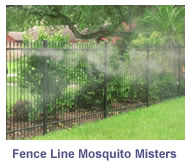 to your arsenal. We offer insect-misting systems that are easy to promote, easy to install and easy to maintain. Best of all, our experience in the insect-misting business eliminates guesswork and puts more profits in your pocket. Don't let the competition beat you to this unique opportunity. Start making money today!
No experience? No problem! Use our experience to grow your business. We offer all you need to get started:
Quality automated misting system & parts
Technical support and expertise.
Our 1 year warranty
Professional sales and marketing plan
We will improve your bottom line immediately !!
Installers of MOSQUITO-PROtm systems nationwide enjoy multiple tie-ins with their ongoing operations, as well as improved customer satisfaction and broader word-of-mouth advertising. Because of the various application opportunities, a larger customer base opens up to you. Our national network provides constant feedback to marketing, tie-in and billing methods designed to improve your income potential right away.
As an official MOSQUITO-PROtm dealer we will back you all the way. We provide creative marketing tools and help you design a complete brand introduction campaign in your selected market. You will have a complete marketing plan, purchasing and inventory set up and comprehensive training in office systems, installations, scheduling and sales calls.
To become a MOSQUITO-PROtm dealer today or to learn more
call 832-778-6366 or
click here to fill out our online Dealer Form.
One of our representatives will contact you within two business days.